Tools to address and measure impacts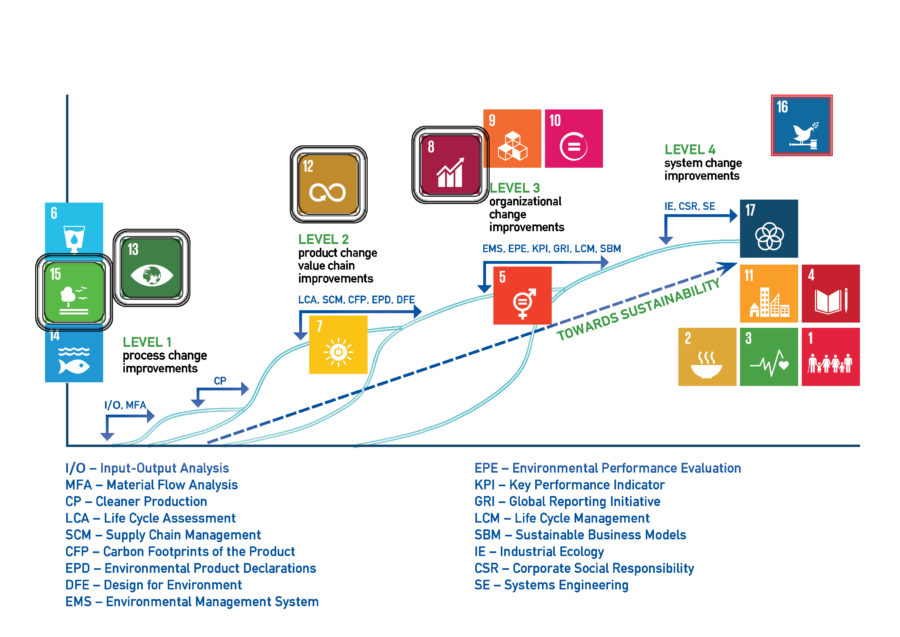 CapSEM model
The goals focused on by Slettvoll are marked with black circles in the figure. Slettvoll are currently working on achieving a new Sustainable Business Model (SBM). To this point they have used appropriate 1-3 level tools.
Find more information on the CapSEM model
For more information on Slettvoll's process, press on the levels below to go through the model.
Level 1: Process change improvements
Slettvoll can use Input/Output analysis and Material Flow analysis, which are both quantitative tools that will help in measuring progress. The objectives being in relation to the use of resources, energy, the consumption of water, emission and waste. For example, reducing the inputs to and outputs from a process, will contribute to reduce negative impact on soil, nature, water and air, which directly will affect Slettvoll's SDGs 13 (climate) and 15 (life on land).
Level 2: Product change improvements
SDG 12 is represented at this level, which is about achieving responsible consumption and production. Slettvoll have conducted LCAs and calculated EPDs. LCA is a tool that maps out improvement areas for the sustainability footprint of a product, and it quantifies the material flows (MFA) from "cradle to grave". The LCA can also be applied within Supply chain management (SCM), setting up stream requirements in the supply chain. It can lead to the company becoming more resource and energy efficient, choosing material and components that have less impact on the environment. In addition, the LCA results can be used in documenting the product footprint through EPDs, as Slettvoll have started calculating.
Level 3: Organizational change improvements
SDG 8 (Decent work and economic growth) is one of the goals at this level. Implementing an Environmental Management System (EMS), is a good way of working on managing the sustainability challenges. Slettvoll is becoming Miljøfyrtårn certified. With EPD-s measuring the products environmental footprint, the Miljøfyrtårn certification, may be a great way in measuring with regards to the overall business. It provides tools to implement that are effective and profitable within areas such as working environment, energy consumption and transports.
Slettvoll are also planning on setting Key Performance Indicators (KPI) a quantitative tool that is good to use in measuring and tracking their environmental performance.
Level 4: System change improvements
In systematic change, the remaining SDGs are placed. These are the drivers for systematic change. The SDGs, 13, 14 and 15 at level 1, would also be applicable at this level, considering they are essential to human existence.
Slettvoll is a member of Møbelfakta, as well as having a partnership with Møbelkraft. Working towards solutions that benefits the entire furniture industry and its sustainable development, are collaborations that creates systematic change.