Slettvoll AS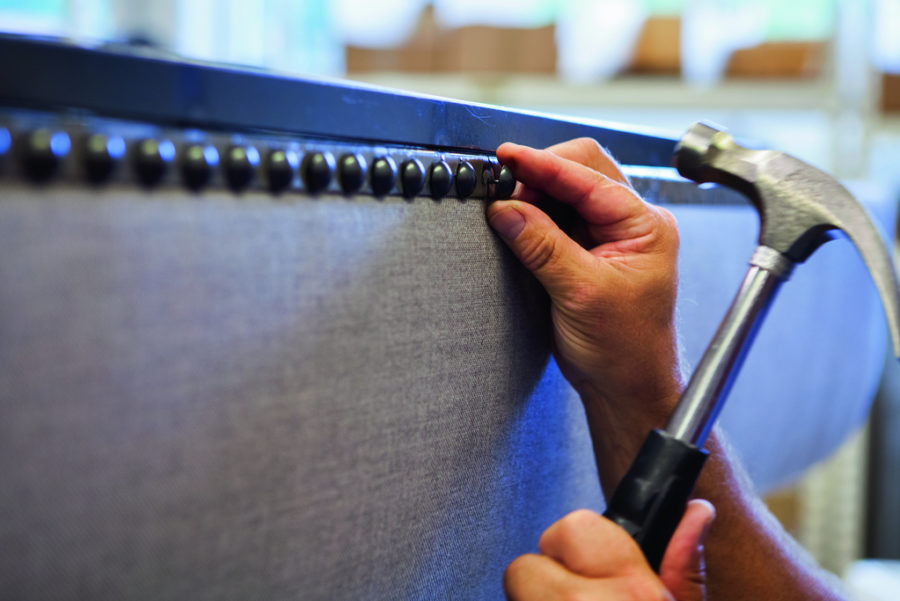 Slettvoll AS is a furniture company established in 1951 and located at Stranda, Norway. Since the beginning, they been focused on combining quality and beauty. Slettvoll is inspired by the beautiful and changing nature, and their development can be characterized as the real, simple and down to earth.

This business case presentation is based on Sustainable Development Goals (SDGs) and Sustainable Business Models – a case study of Slettvoll AS – A master thesis at NTNU Ålesund.
See our recorded webinar on the Slettvoll business case (held 27.08.2020)
Sustainability Challenge
New customer requirements, environmental awareness and focus on sustainable development has changed buying patterns and created a shift in demand. As a dedicated firm, Slettvoll AS wants to be a valuable contributor to this change and seeks to find new business opportunities.
The UN Sustainable Development Goals (SDGs) seek to strengthen social, economic, and environmental issues on national, regional and global levels. Slettvoll has decided to adopt and integrate four SDGs in the business model; SDG 8 (Decent work and economic growth), SDG 12 (Responsible consumption and production), SDG 13 (Climate action) and SDG 15 (Life on land).
We are working towards a circular business model, focusing on:
Resource efficiency
Prolonging the lifespan of our products.
Waste minimization
Energy efficiency (Reducing GHG emissions)
Aiming to reduce our negative environmental footprints within production processes, products, and services along the entire supply chain.
Sustainable business model archetypes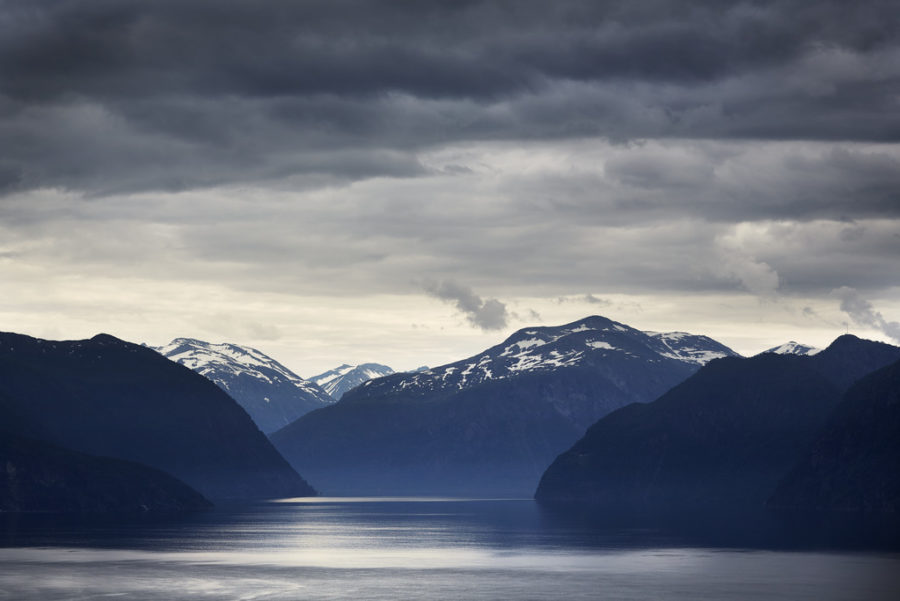 Sustainability challenges in the furniture sector have challenged Slettvoll and our current business model. The goal is to move from traditional linear thinking to a circular business model.
We needed a process tool to start this journey. By following the four recommended phases in the RESTART framework, Slettvoll AS has mapped out a new sustainable business model. Read more about RESTART here.
Click through the four recommended phases:
Recognize the current business model
Identify the need for change by looking at the negative and positive externalities.
Positive externalities
Slettvoll produce and sell high-quality design furniture. Combined with excellent service, this is something that results in a higher product lifetime and less consumption.
We have many local suppliers, and source locally where possible. This creates jobs and results in a lower CO2 imprint with short distance transport.
With regards to jobs, we are focused on our factory at Stranda, and not outsource production but rather insource were possible.
Some of our suppliers are working on developing more sustainable practices, and we are collecting information from all suppliers regarding their sustainability efforts.
Slettvoll`s suppliers have signed our Code of Conduct.
Textiles and all other material used in the production is regulated through an EU regulation, REACH.; "Registration, Evaluation, Authorisation and Restriction of Chemicals".
We are Grønt Punkt certified, which means we recycle our packaging according to the requirements of the government.
Slettvoll operates a chain in addition to production and manages 19 stores. This removes an intermediary, meaning we coordinate all products from the factory to our stores.
Negative externalities
We can work more on solutions that slows the flow of resources.
Become more resource efficient and use less resources per product.
Reduce the amount of waste and surplus resources. For example, by finding companies that can take advantage of it (industrial symbiosis).
Use more sustainable materials and input factors.
Work on becoming more energy efficient.
Sustainable Development Goals (SDGs)
Slettvoll chose sustainability as the strategic topic for 2020 and started with an internal workshop. In all we were 15 internal participants and we went through all the 17 sustainability goals. Eventually we decided to focus on four SDGs. We found these goals important for the company, and areas of which we think we can make a real difference.
SDG 8: Decent work and economic growth - Promote sustained, inclusive, and sustainable economic growth, full and productive employment, and decent work for all.
SDG12: Responsible consumption and production - Ensure sustainable consumption and production patterns.
SDG 13: Climate action - Take urgent action to combat climate change and its impacts.
SDG 15: Life on land - Protect, restore and promote sustainable use of terrestrial ecosystems, sustainably manage forests, combat desertification, and halt and reserve land degradation and halt biodiversity loss.
For more information on the importance on these SDGs, follow the link:
Rethink the business model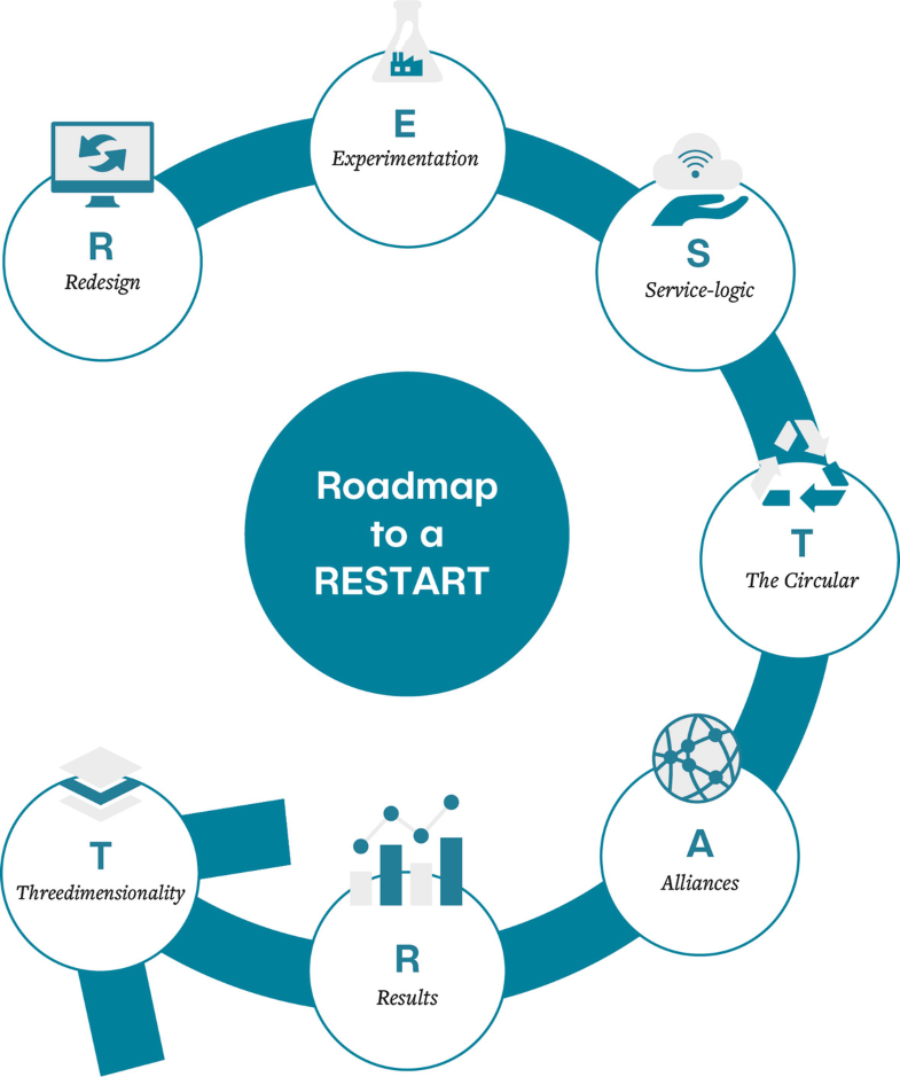 Explore the opportunities and threats and identify the changes in the markets, technologies, and consumer preferences that the current business model has failed to exploit.
Service logic
Do we have products that can be turned into services? How can changing consumer practices reduce the footprint of our products? Can we provide additional services that reduce the footprint of our products?
We are highly focused on quality and chose only the best quality material and components for our products. In addition, there is information to be found on our website on maintenance and spare parts, we also give our customers detailed maintenance brochures along with their purchased furniture. Another possibility is to establish a customer relationship system, were we can provide information to the customers on when it is time to oil the furniture for example. Slettvoll already have a customer portal through "my page" on their website, where the customers can find their purchasing history and specifications.
The Circular
Does our business model generate waste or excess resources that can be reduced or eliminated? How can we redesign our products and services to prevent negative externalities? How can we facilitate consumption that utilize surplus capacity in existing products and services?
At Slettvoll we are looking at possible ways of upcycling, resource utilization and reducing our waste and surplus resources. In addition, we are working on more environmentally friendly packaging, and reducing negative impact by redesigning products and services.

We are working on how to optimize our resource utilization and are planning to collaborate with another company to reduce textile waste. Our plan is to send the excess textiles to a Danish company called Really. They upcycle textiles that would normally go to waste and resell them. Today, excess textiles represent a cost, but by finding others that can make use of our waste, we will lower these costs as well as reducing waste and surplus resources.
Slettvoll have started mapping out the packaging of plastic and cardboards, and already use 50 % recycled cardboard. In addition, we have replaced the bubble wraps with clear plastic resulting in both reduction of costs and nearly 50% less usage of plastic. We are also working on "packaging in return". These can be placed on pallets, collected, and sent back to the factory. By marking them with "reusable boxes", it will also help communicating our sustainability efforts to our customers. The goal is to reduce waste and emission, as well as costs.
Another initiative is environmental smart packaging. A possibility is to make a reusable furniture pram package, for delivering and retrieving furniture. The reuse will result in less waste of resources, easier transportation and improved HSE for the transporters.
With regards to redesigning products and services to prevent negative impacts on externalities, our company has become certified in measuring Environmental Product Declarations (EPDs). Calculating an EPD, means calculating all components to a product, measuring transport, what types of components are used, the environment- and CO2 imprint these components have, and find the total environmental impact of the furniture. By mapping our components and identify the ones with the highest CO2 imprint we can replace them. For example, make use of more recycled materials, like recycled plastic and wood. In the beginning the EPDs can be used to map out the current position. However, gradually, as we calculate and launch more products, we can use it actively to develop products that are more environmentally friendly.
Alliances
Which partners and alliances can help us reach our goals? Do we have existing partners where there is potential for symbiosis? Can new constellations of cooperation enable us to solve new problems, or to reduce our footprint?
The addressed solutions in Service Logic and The Circular, results in a need to form different alliances. In addition, Slettvoll has a collaboration with Møbelkraft, and new possibilities in ongoing projects that are beneficial for the furniture Industry.

As mentioned in the circulation part, we have started looking into possible alliances that can make use of our excess resources, as Really is an example of. However, as other businesses increase their effort due to sustainable development and transitioning their business models, new alliances will probably appear.
We are on the board with Møbelkraft, which is a corporation that is owned by players in the furniture industry, as well as the public sector. Their goal is to: Develop services and activities that provide inspiration and skills development within the Norwegian furniture and supplier industry. Among other things they have developed 3D knitting that the collaborating businesses can take part in. Another project that they are working on now and of which Slettvoll is a lead partner, is mapping out and getting an overview of relevant environmental regulations and requirements. An environmental management system for the furniture industry. See: https://mobelkraft.no/vaare-prosjekter/
Slettvoll is also a member of Møblefakta, a network for the furniture and interior design industry developed by Norsk Industri. Through our participation we get access to forums, various activities and tools within areas such as environment and quality. For example, companies can take courses and become certified in calculating EPDs. The goal is to achieve a strengthen competitiveness, through network building and increased competence. For more information see: https://www.norskindustri.no/kampanjesider/mobelfakta/mobelfakta/
Results
Are we doing the right things? How to prioritize de most materiality sustainable conditions? And how to communicate our sustainable presentations to our stakeholders?
At this step conducting a materiality assessment can be of great help. This assessment uncovers relevant, social and environmental issues that Slettvoll is facing and prioritizes them according to their importance from an economic, social and environmental point of view. The SDGs can also be included to illustrate how these goals can be used in the process of developing a more sustainable business model.
The materiality assessment looks at what is important for stakeholders and the company, independent of each other. They should then prioritize what is of high importance for both stakeholders and company. An example of a prioritization from each of the SDGs is presented below:
SDG 8 – Responsible supply chain management.
We developed a Code of Conduct in 2015, and it was signed by all our suppliers. This document includes Fairtrade, no use of child labour, no dangerous chemicals, to certify were it is possible and to operate within their country's regulations. In addition, we are gathering documentation from all suppliers with regards to their certifications and environmental work. Most of their suppliers have certifications, like "Oeko-Tex", ISO 14001 and "Miljøfyrtårn". Gathering this information has been very useful and was one of the first thing we got started with.
SDG 12 – Quality design furniture
Slettvoll is known for their high-quality design furniture. The fact that the products are made with such high quality, makes them eligible to be used for a very long time, resulting in less consumption.
SDG 13 – Lower carbon footprints on products services and processes.
We aim to lower our carbon footprint on products, services and processes and are measuring the CO2 imprint of the company. As mentioned in the circular step, we have started calculating EPDs. With regards to the GHG emissions being a great issue in the world society, this would be of high importance for both stakeholders and the company.
SDG 15 – Responsible forest products
Having responsible forest products is of high priority for Slettvoll, which is why we make sure that all our wood used in the furniture is certified, for example with FSC (Forest Stewardship Council).We are also aiming to make use of more sustainable input factors and materials in our production processes.
Three - dimensionality
How can we rig our organization to promote and follow up on our sustainability presentations? How can we measure and communicate presentations internally and externally? Are we able to capture the business-related consequences of our sustainability improvements?
A good model to address at this stage is the CapSEM model, see https://bh4s.no/toolbox/sdgs-and-capsem-model. It is important to measure and monitor progress. At Slettvoll we use tools from the three first levels of the CapSEM – model. Our sustainability performance is planned to be communicated both externally and internally. More on our work at this stage can be found at Tools to address and measure impact, and Reporting & communicating progress.
Reinventing the business model
After developing new ideas and hypothesis from the process in recognizing and rethinking the current business model, the company can decide upon a new business model.
Experimentation
What features of our business model can we experiment with? How can we implement pilots to make our business model more sustainable?
Before going through with making changes to our business model, we would perform experimentations. We are looking into several solution moving forward. Before fully implementing these solutions, it is wise to perform experimentations and testing. This to uncover what works, why it works, and to increase the possibility for success.
Redesign
How can the company integrate sustainability considerations in their value propositions? How can the company deliver its value propositions in a more sustainable way? How can the company charge their customers in other ways?
After experimenting and testing, we would be ready to redesign our business model. This means changing how Slettvoll creates, delivers, and captures value, with the aim of becoming both profitable and sustainable.

Value creation
With our sustainable initiatives, we aim to achieve new key customers, such as environmentally friendly customers, a customer segment which is growing rapidly. We are also planning on attracting more B2B customers. In creating and maintaining the customer relationships a possibility is to develop a customer relationship system as mentioned in Service logic. We will also be communicating and marketing our sustainability efforts.
A new Value proposition can be:
At Slettvoll we offer quality design furniture and sustainable solutions for our environmentally friendly customers. Promoting sustainable consumption and production, protecting the environment.
Capturing value
The new sustainable solutions may result in increased sales, attracting new environmentally friendly customers, as well as reducing costs by using less resources. However, there will also be costs within for example marketing, and IT services.
Delivering value
To deliver the value propositions, we will be working on forming more partnerships with sustainable businesses like Really, contributing to the circularity of resources. Møbelfakta and Møbelkraft are also great partner collaborations for us, sharing knowledge and technology. We will be performing activities such as marketing our green initiatives, calculating EPDs and working on our certifications, constantly working on improvement and measuring our progress, and communicating our efforts.
Circular business models
Our sustainability efforts, plans going forward, as well as opportunities, will influence our business in a way that can lead to a more circular and sustainable business model. Of the five circular business models identified by Accenture, we will be within product life extension and recovery and recycling. See https://bh4s.no/sustainable-business-model-archetypes/circular-economy-business-models
Product life extension
Having great focus on high quality furniture, as well as providing good information on maintaining the products, Slettvoll prolongs the furniture lifespan.
Recovery and recycling
Within Recovery and recycling, we will continue to look for industrial symbiosis, as with the example of the cooperation with textile company Really. This would lead to upcycling of resources that normally would go to waste. In addition, we will be using more recycled material, as well as reducing the use of packaging.
Reorganizing the business model
The results from this process is a circular business model where we will put attention to the following steps to get this fully implemented in our organisation:
Anchoring the sustainable business model in the management team - ensure that all departments in the organization work in a more sustainable way.
Communicate the new business model throughout the business
Integrate sustainability goals in the overall strategy plan
Allocating authorities
Forming and signing contract with new collaborative partners.
Developing KPIs and incentives.
Marketing the sustainable efforts and new solutions to the stakeholders.
Tools to address and measure impacts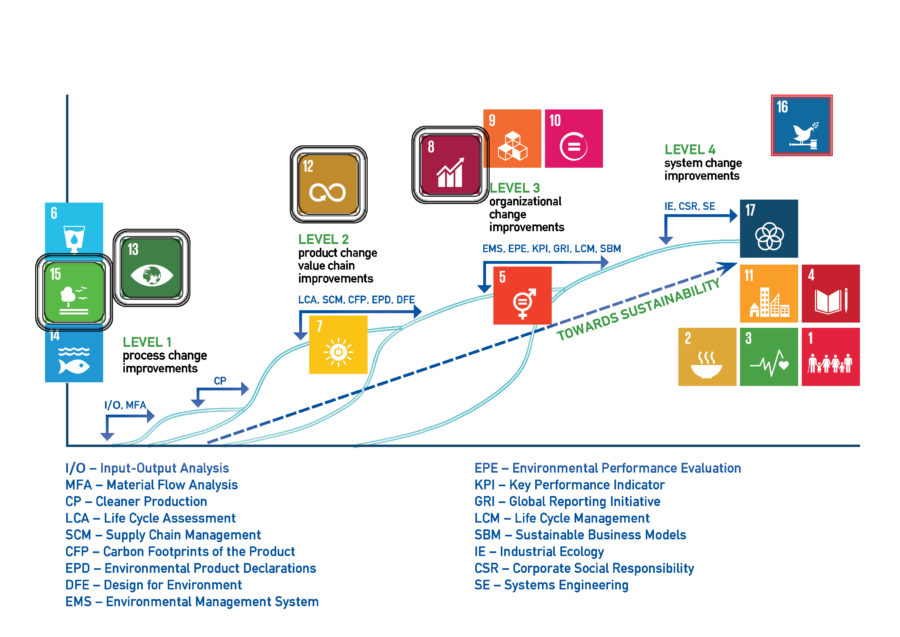 CapSEM model
The goals focused on by Slettvoll are marked with black circles in the figure. Slettvoll are currently working on achieving a new Sustainable Business Model (SBM). To this point they have used appropriate 1-3 level tools.
Find more information on the CapSEM model
For more information on Slettvoll's process, press on the levels below to go through the model.
Level 1: Process change improvements
Slettvoll can use Input/Output analysis and Material Flow analysis, which are both quantitative tools that will help in measuring progress. The objectives being in relation to the use of resources, energy, the consumption of water, emission and waste. For example, reducing the inputs to and outputs from a process, will contribute to reduce negative impact on soil, nature, water and air, which directly will affect Slettvoll's SDGs 13 (climate) and 15 (life on land).
Level 2: Product change improvements
SDG 12 is represented at this level, which is about achieving responsible consumption and production. Slettvoll have conducted LCAs and calculated EPDs. LCA is a tool that maps out improvement areas for the sustainability footprint of a product, and it quantifies the material flows (MFA) from "cradle to grave". The LCA can also be applied within Supply chain management (SCM), setting up stream requirements in the supply chain. It can lead to the company becoming more resource and energy efficient, choosing material and components that have less impact on the environment. In addition, the LCA results can be used in documenting the product footprint through EPDs, as Slettvoll have started calculating.
Level 3: Organizational change improvements
SDG 8 (Decent work and economic growth) is one of the goals at this level. Implementing an Environmental Management System (EMS), is a good way of working on managing the sustainability challenges. Slettvoll is becoming Miljøfyrtårn certified. With EPD-s measuring the products environmental footprint, the Miljøfyrtårn certification, may be a great way in measuring with regards to the overall business. It provides tools to implement that are effective and profitable within areas such as working environment, energy consumption and transports.
Slettvoll are also planning on setting Key Performance Indicators (KPI) a quantitative tool that is good to use in measuring and tracking their environmental performance.
Level 4: System change improvements
In systematic change, the remaining SDGs are placed. These are the drivers for systematic change. The SDGs, 13, 14 and 15 at level 1, would also be applicable at this level, considering they are essential to human existence.
Slettvoll is a member of Møbelfakta, as well as having a partnership with Møbelkraft. Working towards solutions that benefits the entire furniture industry and its sustainable development, are collaborations that creates systematic change.
Reporting & communicating improvements
In January of 2020, we hosted a sustainability event at our store in Ålesund, announcing our commitment to the SDGs, as well as presenting the specific goals we focus on.
There is little information to be found with regards to Slettvoll and sustainability. However, we want this to be communicated through our homepage, as well as on the furniture. The company home page is a good channel to use when communicating our sustainability efforts and goals moving forward. Currently we are working on a communication strategy to communicate sustainability in social media. We have gathered 8 main focus areas that we will match with detailed photos we have taken to emphasis our work on sustainability.
Another opportunity is to publish our EPDs, on EPD Norway, see - https://www.epd-norge.no. In this way companies can select the most environmentally friendly furniture.
In addition, when becoming certified with Miljøfyrtårn, a possibility is to show the results through our company website, communicating it both internally and externally. For more information on Miljøfyrtårn see: https://www.miljofyrtarn.no/
Related environmental, social & economic impacts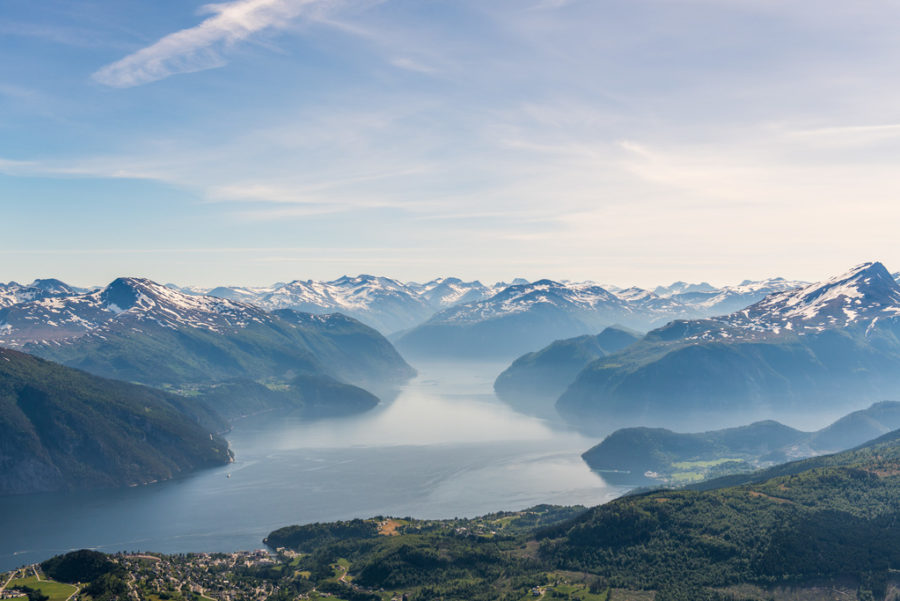 With a new sustainable business model, we can achieve a positive environmental, social, and economic impact. By using tools, models and framework we can strategically move towards achieving our goals, positively effecting our chosen SDGs.
SDG 8 – We are working hard on responsible supply chain management, getting to know our suppliers, and mapping out their sustainable efforts. In addition, making sure that our input factors are made in a responsible matter, using a Code of Conduct. We will also continue having a local presence and source locally where possible.
SDG 12 –The transformation from a linear to a more sustainable and circular business model requires many new processes and solutions. By forming industrial symbiosis, we can reduce our waste and surplus resources. An increased usage of environmental smart packaging is on the agenda and we will keep focusing on producing high quality furniture.
SDG 13- In becoming more energy efficient, we are calculating LCAs and EPDs as tools in achieving lower carbon footprints on our products, services, and processes. The Environmental Lighthouse (Miljøfyrtårn) certification is also a helpful tool in getting an overview of the company climate accounting, CO2 emissions and our overall environmental performance.
SDG 15 – Slettvoll shows responsibility by using FSC certified wood. However, we aim to reduce our use of tropical wood in the future and focus on more sustainable materials and input factors.
All the actions related to the SDGs incorporated in Slettvoll's business model might be valuable initiatives and help to create, capture, and deliver added value to all stakeholders. Social, economic, and environmental performance will increase if you act responsible.